Do you know this girl? Because we do. Meet Essena O'Neill, former Instagram Celebrity.
In January, Essena quit social media altogether, only after recently going through ALL of her Instagrams and changing the caption to what is REALLY going on in the picture.
As Instagram users, we like to think we are aware of what happens when companies, people, and celebrities are manipulating us through posts.
So why was the social media world so shocked when Essena revealed the truth? Because no one ACTUALLY knows what's REALLY happening on the internet, ever. Below are some examples of Essena's posts that reveal Instagram truths.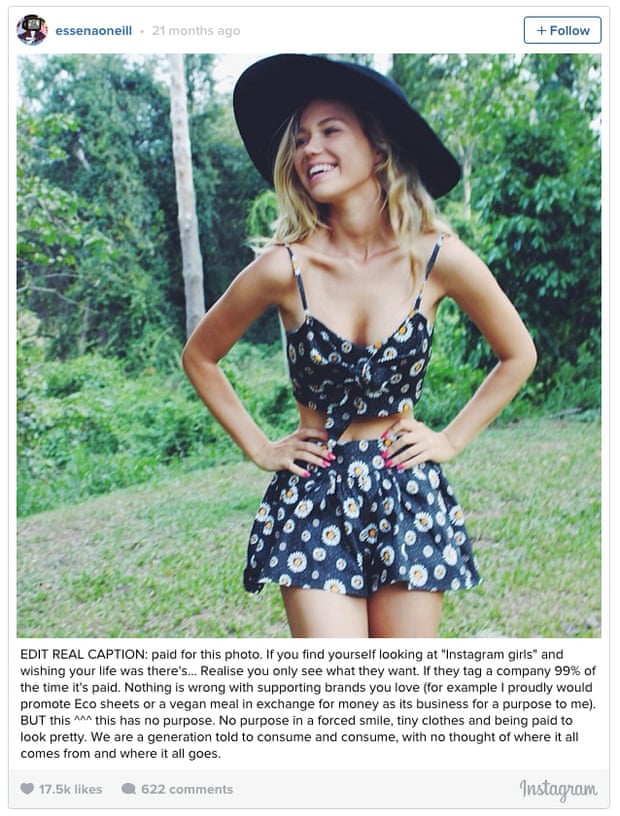 So Essena O'neill is officially the REALEST person on Instagram, who's not even actually on Instagram! We need more celebrities like Essena who reveal truths about social media advertising, so that our children do not end up as addicted to approval as we are.
The thing that infuriates me the most about people on social media is that people will quickly follow a trend that makes them appear more beautiful or socially skilled, rather than following a trend such as being truthful on Instagram, or deleting the app altogether. Sure people say "I need it" and "It keeps me in the loop," but what valuable information are we even getting from Instagram, other than what's trending? Probably #nothing